jibika
Launched in 2015, Jibika, the first project under the Bangladesh Partnership Initiative, is being implemented by BRAC. Its goal is to assist 112 self-help groups with capacity-building training, guidance on operating their enterprises and provision of startup capital. It is anticipated that the livelihoods of 20,000 people will be sustainably improved.

82
groups completed registration as cooperatives

3,700
trainings on leadership, accounts management and enterprise development
1,800
enterprises received credit and seed funds
uttoron
In 2015, Chevron signed a Memorandum of Understanding (MoU) with the Asian Development Bank (ADB). Under the umbrella of the government of Bangladesh's Skills for Employment Investment Program, sponsored by ADB and administered by the Ministry of Finance, this partnership will enable 1,400 community youths near Chevron's operational areas to access high-quality training programs in light engineering and construction sectors. In 2016, Chevron launched Uttoron, a three-year project with Swisscontact to facilitate the delivery of training and will link trainees with reputable employers in the region.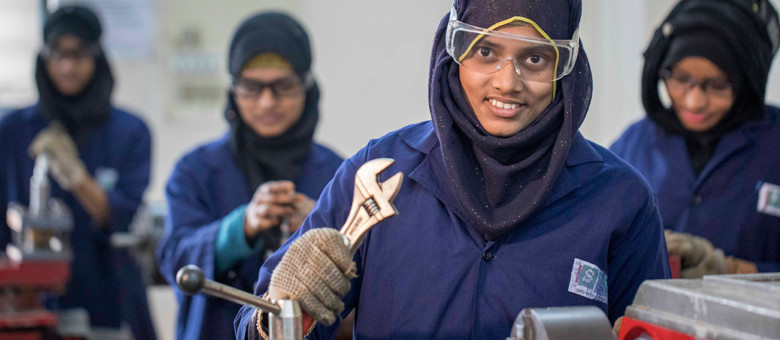 to date, of 203 graduate trainees, 143 have already received confirmed job placements.
english for business success
Under the same MoU with ADB, in November 2016 Chevron launched the British Council–run "English for Business Success" project. This project will deliver English language training to nearly 3,500 call-center trainees nationwide through the Bangladesh Association of Call Center and Outsourcing.

to date, english language
training has been delivered to more than 3,200 call-center operators and office staff