jibika
Launched in 2015 and implemented by BRAC, the Jibika project under the Bangladesh Partnership Initiative (BPI) was designed to promote entrepreneurship for sustainable income growth of poor and marginalized farming households around the Chevron-operated gas fields. Phase I of this project successfully modified Village Development Organizations (VDO), which later received registration from the Department of Cooperatives. BRAC and its implementing partner Institute of Development Affairs (IDEA) have also facilitated intensive community trainings on leadership, funds management, cattle rearing and vegetable gardening and more. Between 2015 and 2019, approximately 20,000 people have benefitted from the Jibika project.
Following the successful completion of Phase I, the second phase is designed to further strengthen the governance and management of the Jibika cooperatives and help them achieve long-term sustainability by 2022.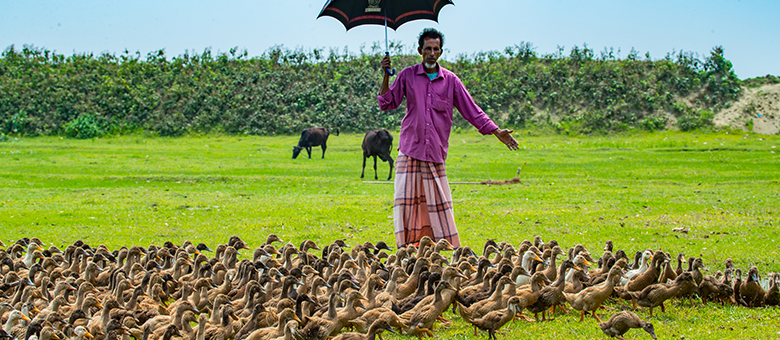 110
village groups completed registration as cooperatives
58 percent
women in cooperative leadership roles

2,300+
microentrepreneurs supported with training and access to finance
uttoron
In 2015, Chevron signed a Memorandum of Understanding (MoU) with the Asian Development Bank (ADB). Under the umbrella of the government of Bangladesh's Skills for Employment Investment Program, sponsored by ADB and administered by the Ministry of Finance, the aim of this partnership was to enable 1,400 community youths near Chevron's operational areas in the Sylhet region to access high-quality training programs in light engineering, construction and ready-made garment sectors. In 2016, Chevron launched Uttoron, a three-year project with Swisscontact to facilitate the delivery of training and link trainees with reputable employers in the region. Phase-1 of the project closed in July 2019, with nearly 1,450 youths trained (21 percent female) and awareness on skills training delivered to 53,000 community members.
Uttoron-II was launched in December 2019, aiming to enhance the skills and employability of 2,000 community youths (80 percent from Chevron's gas field areas) over the next three years. Furthermore, the project aims to establish a skills training center near the Bibiyana Gas Field, and upgrade a national training institute to offer advanced training courses on welding.
during phase-I, of 1,449 graduate trainees, nearly 68 percent are now employed in different industries
english for business success
Under the same MoU with ADB, Chevron launched the 15-month "English for Business Success" project, run by British Council. By the close of this project in 2018, it delivered English language communication skills training to over 3,000 trainees aged 18-40 for the Business Process Outsourcing sector. British Council developed

the curriculum in collaboration with

the Bangladesh Association of Call Center and Outsourcing and delivered the trainings in 13 call-centers nationwide.
english language
training delivered to over 3,000 call-center operators and office staff
uddokta
Uddokta - powering entrepreneurs - is a partnership between Chevron and International Development Enterprises (iDE) under BPI. The project seeks to amplify Chevron's investments made in Bangladesh to improve the lives and livelihoods of rural communities through an increased focus on powering local entrepreneurs and building inclusive market systems that link smallholder producers to more rewarding opportunities.
As a result of improved access to goods and services delivered through enterprises supported by the project, Uddokta aims to trigger an increase in the incomes of over 2,700 VDO-affiliated households. It is also anticipated that project efforts will result in an increase in the annual revenues of 1,100 micro and small enterprises, and increased sales of quality inputs to smallholder farmers. Moreover, Uddokta will facilitate access to finance for participating enterprises to establish, grow and operate their businesses. In summary, over 37,000 household members will be benefitted from augmented incomes as a result of improved access to goods and services triggered through systemic market changes catalyzed by Uddokta.